Sie möchten mit uns persönlich
sprechen? Dann rufen Sie uns einfach an.
Fon + 49 3671 5721 0
RSP press releases
Members of the DVGW visit RSP GmbH
The DVGW is the German Technical and Scientific Association for Gas and Water and has been setting the technical standards for the safe and reliable supply of gas and water for more than 150 years. It also actively initiates the exchange of ideas and information in the gas and water industries, and supervises as well as motivates and promotes development in these specialist fields with practically related assistance. Every year, the DVGW organises a company visit. This provides better networking for the individual members of the Association and also leads naturally to a lively exchange of ideas and experience.
At the suggestion of Mr. Collier, Chairman of the Eastern District group, the delegates visited Reschwitzer Saugbagger Produktions GmbH on Friday 24.06.2011. On site, guests were able to form an impression of the production facilities. Our product demonstration aroused great interest and our expertise impressed many of the Association's members. A suction excavator can be used in many areas. It provides an efficient solution in civil engineering for laying underground cables for all network operators, or in the case of an emergency. An RSP suction excavator is the practical solution for the technically and economically expedient maintenance of cable networks. Contacts: Mr. Renger RSP GmbH Phone 03671 5721-227 Mr. Collier DVGW Bezirksgruppe Ost Phone 0365 4870789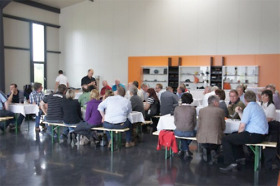 Back to overview

Reschwitzer Saugbagger
Produktions GmbH
Gewerbegebiet Beulwitz
Zum Silberstollen 10
D-07318 Saalfeld

Phone + 49 3671 5721 0
Fax + 49 3671 5721 21
info@rsp-germany.com
Contacts

Marina Renger
Managing Director / Commercial Director
Phone +49 3671 5721 0
Fax +49 3671 5721 29
mr@rsp-germany.com