Sie möchten mit uns persönlich
sprechen? Dann rufen Sie uns einfach an.
Fon + 49 3671 5721 0
RSP press releases
Suction instead of digging. Langenthal and KIBAG Thurgau have benefited from ultramodern suction excavators since the spring of this year.
A MAN tractor carries the modern superstructure, Made in Germany. There are only a few vehicles of this type in use in Switzerland. KIBAG is now a provider of these new services.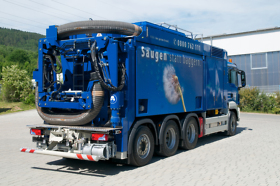 Power meets efficiency
Back to overview

Reschwitzer Saugbagger
Produktions GmbH
Gewerbegebiet Beulwitz
Zum Silberstollen 10
D-07318 Saalfeld

Phone + 49 3671 5721 0
Fax + 49 3671 5721 21
info@rsp-germany.com
Contacts

Marina Renger
Managing Director / Commercial Director
Phone +49 3671 5721 0
Fax +49 3671 5721 29
mr@rsp-germany.com